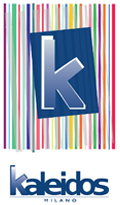 KALEIDOS: DEVOTION TO THE COLOURS
The claim of the brand "devotion to the colours" is the perfect synthesis ofgoals and of what the collections Kaleidos represents: bring a wonderful rainbow of colors and pure joy and fun to the table and in the kitchen thanks to the accessories offered by Kaleidos.
The young spirit, versatility, cheerfulness and light-heartedness that characterize these products have made the Kaleidos collection loved by the Italian and international public since its inception at the end of 2010, making the Allreds company grow, owner of the Kaleidos brand, from year to year very quickly.
Success is never accidental and the brand's claim "devotion to the colours" indicates the utmost attention and even "devotion" dedicated by the company's managers to color.
The choice of colors is the result of research on trends and styles and is carried out with the collaboration of interior designers and stylists, who also take care of the settings and supervise the creation of marketing and sales support material.
KALEIDOS: ATTENTION TO THE PRODUCT
The wide range of Kaleidos products, available in numerous and brilliant nuances and all eco-friendly, adapts perfectly to any occasion and accompanies every moment of the day, starting from everything you need for a rich breakfast up to the pleasant moment of dinner, and it validly solves any need for the table and the kitchen, with products that are not only practical and functional, but with a fresh and original design, which also catch the eye thanks to their bright and lively colours.
KALEIDOS: VERSATILITY AND CREATIVITY
The Kaleidos brand is not only characterized by the vast assortment it offers to its customers, but also by the extreme versatility of its products which, giving space to creativity and imagination, can be interpreted in many original ways. In an infinite game of imagination, salad bowls are transformed into nice centerpieces, glasses into small lanterns, cups into cutlery holders or jars into windproof candle holders, to have fun amaze and to create while having fun.