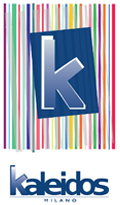 KALEIDOS MILANO – DEVOTION TO COLOURS
THE FUN IS SERVED
An infinite range of colors to free the imagination, combined with a design designed to excite in everyday life.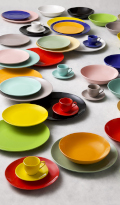 Originality, cheerfulness, essentiality, practicality, ergonomics are the guidelines of our studio, in the constant search for objects, shapes and shades that can transform the ordinary into the extraordinary.
An explosion of colors that bring joy, an invitation to create and have fun.
The colors that can be combined with each other give life to tables that are always new and suitable for all occasions, from the festive table to the party with friends, and adapt to all styles, classic or modern, country or Provençal, shabby or retro .
For lovers of timeless white, the Basic White lines are available, made with raw materials from Limoges, the excellence in the world of porcelain. They offer a superior quality product, which keeps its value and beauty unchanged over time.